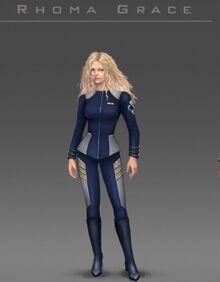 Rhoma Grace is the protagonist of the Zodiac series. Rho was born in House Cancer.
Before going to study at the Cancrian Academy on Elara, the largest moon of Cancer's constellation, Rho used to live with her parents, Kassandra and Marko Grace, and her brother, Stanton, on the planet of Cancer.
From a young age, Rho's mother taught her as much as she could about the Zodiac and all of its Houses. She also trained Rho from as young as 4 years old to Center herself, and perform Yarrot, as she believed one was more receptive to Psynergy at a young age. Although Kassandra's training was later helpful to Rho, her mother's controlling and manic nature left Rho feeling distaste toward her mother for many years, especially since she had to watch Kassandra dote and care for Stanton like a normal child while she was treated strictly and like a student.
On Stanton's 10th birthday, when Rhoma was 7, their father decided to take them nar-clamming (fishing nar-clams) on his Strider. Rho always loved leaning her head over the side ad stare down at the tiny whirlpools that occasionally formed, swirling in various hues of blue.
Since she was only 7 at the time, which is under the legal deep-diving age, she stayed on the topside with her Mom, while her Dad and Stanton dove down for nar-clams. She described her mother that day like a siren, perched on the peak of the diving board as they waited for the guys to surface with their spoils.
As Marko and Stanton resurfaced, Rho noticed more bubbles forming in the water behind them, but said nothing. It turned out to be a Maw, which then attacked Stanton and bit him deeply on the shoulder, poisoning him. Marko pulled him on board and sucked the venom out of his shoulder, while Kassandra valiantly led the Maw away from the boat underwater before slicing it in half, Rho watching through her navigational glasses.
While attending the Cancrian Academy on Elara, Rho met Mathias Thais when she saw him in the solarium performing Yarrot. She also met Nishiko Sai, Deke Moreten, and Kai, and formed a band with them called the Drowning Diamonds, in which she played the drums. Their band became very popular at the Academy and beyond.
During her life on Elara, Rho proved to be skilled in Centering and using an Ephemeris thanks to the training from her mother at a young age. However, she seldom used an Astralator, leading her to be untrained in its usage and thus her star readings being disregarded by her teachers and even herself. She failed her school's test due to not using an Astralator and was forced to retake it. She also doubted the omen she predicted of Cancer's moons flickering from Dark Matter, until Thebe was struck during the Lunar Quadract and it along with the rest of Cancer's moons were destroyed in a Psy attack.
Cancer's Guardian, Mother Origene, was killed in the attack on Elara, and the stars chose Rho to take her place. She and her friends traveled to Oceon 6 to reconvene with other survivors, but the state of Rho's father and brother was still unknown. There, Rho began her Zodai training and selected her council of Advisors. Rho asked Lodestar Mathias Thais, her childhood crush and the Zodai who escorted her and her friends to safety, to be her Guide.
Fearing who the culprit of the attack on Elara might've been, Rho asked her best friend Nishiko Sai to investigate the legend of Ophiuchus, and her findings all but confirmed Rho's suspicions.
The night of her swearing-in Ceremony, Rho came face to face with Ochus himself, and she realized Gemini and Virgo were going to be attacked with Dark Matter, just as Cancer was--and she was the only person who could see the threat. When she warned her Advisors of the threat, they refused to believe her outlandish claim.
Without the support of her advisors, she took off with Mathias to warn the other Houses, and in their haste, they commandeered a bullet-ship- the Equinox- whose owner was still on board. Diplomatic envoy Hysan Dax of House Libra joined their adventure and proved to be an invaluable resource--only the more time they spent with him, the more Rho and Mathias realized Hysan's smile hid much more than it revealed.
Rho, Mathias, and Hysan first traveled to Gemini together, to warn the Twins of the oncoming attack. Hysan supplied them with cloaking collars so they could make their way to Gemini's Guardians unseen, although Rho and Mathias were both wary toward the deception. Neither Twin believed Rho's warning, but Twin Caaseum decided to join the trio on their journey to Libra and Virgo. On their way, he warned Rho that she was being deceived, and seemed to take special interest in her black opal Ephemeris which once belonged to Mother Origene. He wanted to try using it, but as it was discovered Ochus could track their ship if they connected to Psynergy, Rho refused and locked the black opal in Hysan's lockbox.
By Hysan's request, the trio made a stop at House Libra, and convened with Libra's Guardian, Lord Neith, to warn him of the ongoing attacks. Lord Neith disregarded the warning but invited them to a grand feast, which Caaseum insisted on attending. However, after Mathias noticed something strange about Neith, he and Rho snuck back into his meeting room instead of attending the feast, where they discovered Neith was really an android invented by Hysan- who is also the true Guardian of Libra.
After arriving on Virgo, the trio rushed to warn Empress Moira of an imminent Psy attack. While Mathias and Hysan waited outside, Rho spoke with Moira in private. Moira didn't believe her claims, and activated her Ephemeris to show Rho that her omen was incorrect. Rho tried to warn Moira not to use her Ephemeris, but it was too late, as Ochus appeared and attacked Moira and Rho both viciously. After that, he launched his Psy attack on Virgo. Rho stayed with Moira until a medic arrived to treat her, then fled with Mathias and an injured Hysan back to the Equinox. As Virgo burned around them, Caaseum escaped the ship in a life pod, taking Rho's black opal with him.
Before Moira fell unconscious, she ordered Rho to travel to Aries for the Plenum and warn the other Houses about Ochus and the 13th House. On their way there, Hysan revealed a secret only Guardians were meant to know in front of Mathias, being that each House possessed a Talisman containing the power and essence of each House. The Talisman was passed on to each new Guardian, and not even the Guardian's closest Advisors could know about it. As it turned out, the black opal Caaseum stole was House Cancer's Talisman.
After arriving on Phaetonis, Aries' inhabited planet, the trio snuck into the city of Marson to request an audience in the hippodrome with the representatives of the other 11 Houses. While there, they stayed in Cancer's embassy of the International Village with Mathias's parents. Cancer's Ambassador, Sirna, arrived not long after to help organize the meeting, though she was extremely critical of Rho and her decision to travel across the Zodiac to warn the other houses of Ochus. She helped Rho regardless, as she was required to as her Ambassador. Sirna filled Rho in on the devastation Cancer was enduring, and also revealed that her family was currently missing.
Before the first Plenum began, Rho was approached by a holographic Dr. Eusta, who warned her diligently not to go through with the meeting. However, Rho later realized that not only had Dr. Eusta passed away, but his hologram had no time lag, and thus would've had to be broadcasted from near by. The Plenum began as planned, and Rho gave a speech warning the other Houses about the 13th House. During the Plenum, a group of Rho's admirers ran in to cheer her on. However, Charon from Scorpio challenged Rho's statements, mocking her and presenting evidence that the disasters caused on Cancer's moons as well as on Virgo were really caused by the failure of quantum reactors, not Psynergy attacks. As Moira was in a vegetative state at the time, she could not be present to back up Rho's claims. Although it seemed there was no chance for Rho to prove herself, Libra's Ambassador Frey requested that the Plenum continue tomorrow by Hysan's orders.
As Mathias, his parents, and Rho made their way back to Cancer's embassy after the Plenum, they were attacked by a hidden sniper in the streets. They managed to take cover in an alleyway, protecting Rho as Mathias and his mother worked together to defeat the sniper. The sniper escaped and was pursued by Cancer's secret service, but Mathias was injured in the process. The group retreated to Sirna's safe house.
That night, Sirna revealed that a rebel group called the Marad have been stirring up trouble on the other Houses.
The next day, the Plenum reconvened to continue the discussion of Ophiuchus. Before it began, Hysan pulled Rho away to tell her he was planning on revealing his true identity to the public, and give his testimony about the Psy attack on the Equinox, to get Libra on Rho's side. He also revealed that the night prior, four of Libra's floating cities were attacked by Psynergy, and only survived because of Rho's warning for them to prepare. Just before the Plenum began, Twin Rubidum also arrived and returned Rho's black opal. When Rho realized how many of the Zodiac's Guardians were at the Plenum, she feared it was an ambush by Ophiuchus, and warned that they should disband. The Plenum continued, however, and Charon continued to question and scrutinize Rho. After Hysan attempted to speak up to the crowd, he was Tasered and taken out of the arenasphere. Without him, Lord Neith malfunctioned when asked to testify for Rho. She was dismissed, and her, along with all of her friends, were banned from the Plenum.
Met with mockery and harassment outside of the arenasphere, Hysan offered Rho and the group a place at the Libran embassy. Alone together, the romantic tension between Hysan and Rho grew, leading to them kissing briefly, but quickly breaking apart after Mathias started to enter; he remained oblivious to the interaction. Without the Plenum, Mathias advised they return home, but Rho decided she would travel to the 13th House to get proof of Ophiuchus's existence. Mathias vehemently warned her not to, but she remained determined, and Hysan offered to fly her personally.
Sirna arrived later that night, with news that Stanton had been found injured but alive. She'd also found undeniable proof that Charon's evidence of cosmic rays being the culprit of the disasters across the Zodiac was fabricated, and that he'd been bribed into presenting it at the Plenum. The evidence proved that it was a Psy weapon that caused the destruction, but not that it was Ophiuchus behind it, further solidifying Rho's need to travel to the 13th House. They gathered in the reading room that night and went over the legend of Ophiuchus, hoping to find answers. It was after that that Sirna revealed to Rho that her father had been presumed dead. Consumed by grief, she sought comfort in Hysan that night. The next morning, on Rho's birthday, the news reached that Gemini's capital was razed to the ground. Armed with the horror of the disaster and their new found evidence of Charon's conspiring, the trio snuck into the Plenum, discovering Charon was now the subject of mockery and disdain. Rubidum, the only surviving Twin, was now convinced of Rho's story and rallied the Houses to strike back against Ophiuchus. The Plenum begged for Rho to show up, and the trio obliged and uncloaked themselves in front of the crowd. Rho quickly realized that by uniting the Houses with their raw fear and vitriol, she'd made a grave mistake, but reluctantly agreed when the Plenum vowed to launch an attack on the 13th House and elected Rho to be their armada leader.
The Assault on the 13th House
[
edit
|
edit source
]
Together, the Houses all supplied craft to form an armada, and set off to the very edges of the Zodiac to launch an assault on Ophiuchus. The night before the fleet was set to launch, the Houses gathered at the International Village and celebrated the Helios's Halo festival for the first time in years. There, Rho witnessed the residents of the Zodiac interacting with others from outside of their House, sharing their traditions and customs. Rho caught sight of Hysan interacting with a group of girls, and felt jealous until she realized Hysan had turned down one of the girl's offers of a date.
The festival ends, and the next morning, the journey toward Ophiuchus began. Thanks to Hysan, every ship in the armada is outfitted with a Psy shield. Rho was stationed on Leo's cruiser, the Firebird. The plan to defeat Ophiuchus involved waiting until the armada had successfully passed through Ochus's wall of Dark Matter, then lowering the Psy shields for the Zodai to use an Ephemeris and find the location of Ochus's base. Rho was meant to be a feint by waiting until Ochus's base was found, then flying away in a Wasp spacecraft and opening her Ephemeris to lead Ochus away from the fleet. While he was distracted, the armada would destroy Ochus's base. The original plan also involved Mathias piloting Rho's ship. In order to fulfill the plan, though, Rho needed to find a way to fight back against Ochus in the Psy. After consulting with the Psy experts: Chronicler Yuu of Capricorn, Disciple Psamathe of Pisces, and Talein of Virgo, Rho realized she could use Abyssthe to enhance her Centering and level the playing field between her and Ochus. Hysan set out to retrieve the Abyssthe from one of the fleet's ships.
While in the observatory, Mathias admitted his feelings for Rho and kissed her. Before she could admit her feelings for him as well and reveal the truth about her and Hysan's relationship, the Firebird was sabotaged and attacked from within. As its condition worsened and it plummeted towards planet Ichthys, Rho realized she had to draw the attack away now. Her and Mathias raced to her Wasp ship, but Rho locked him out before he could join her to pilot the ship. When the Wasp deployed, the damage to Firebird was revealed to be extensive and beyond repair. Rho flew away to open her Ephemeris, but needed to encryption key to activate it. Only Admiral Ignus had the encryption key, and he couldn't be contacted. Rho asked Hysan for it, but when he had no answer, she requested it from Mathias, only to realize he hadn't escaped the Firebird on one of the skiffs. He attempted to contact Rho from the Psy, but couldn't as she'd left her Ring behind. Sirna relayed his last words to Rho, and then his voice fell silent in the Psy. There was no time to mourn him, as the Xitium was already being targeted next. Rho activated her tutorial Ephemeris out of desperation, and successfully called Ochus to her. After futilely fighting against him, she realized she needed to draw Psynergy from the entire Zodiac, not just Cancer. In doing this, she managed to weaken Ochus and defeat him in the Psy, but he revealed he was a mere servant of a much greater evil, and that the 13th House planned to return. Hysan then rescued her from her damaged ship, and returned her to the Xitium.
With the armada's failure, Rho was summoned back to Phaetonis. On their way back, the truth of the attack is revealed- that Ochus knew it was coming, and while the fleet was launching its attack, the Marad rebels had used the opportunity to prepare their uprising. Rho also confessed to Hysan she still had feelings for Mathias and broke off their relationship. At the Plenum, the now pardoned Charon interrogated Rho, accusing her of cowardice. The embarrassing failure of their assault had turned every House against her, and finally, she was stripped of her title as Guardian, the only alternative to sentencing her to prison.
Hysan picked up Rho and the homeless Rubidum in the Equinox, and they returned to Cancer. There, Rho attempted to reach its residents in the Psy, but received no response. They Waved the refugee camp on Gemini's planet, Hydragyr, contacting Nishiko, Deke, and Kai. Nishiko revealed that Stanton wasn't with them, and they believed he'd perished at sea. But moments later, Stanton managed to contact Rho through her Wave, and Rho and Hysan set off to find him.
At the beginning of the book on page 20, Rho states that "Back home, I [Rho] had a sun-kissed golden tan."[1] However, being on the moon Elara, she now has pale and pasty skin. She, like all Cancrians, has curly hair. Cancrians hair span from every hair shade but Rho's happens to be bleached from the sun exposure. Lastly, all Cancrians have "eyes, which reflect the Cancer Sea."[1] Which means her eyes are a sea blue, though at one point she describes them as "soft green".
Rho's nature is truly Cancrian at heart. As demonstrated throughout the series, she is selfless and shamelessly devoted to her own morals and sense of right and wrong, defying any who doubt her. It's clear she cares more for others than she does herself, but most of all, she cares about her friends and family. She's willing to sacrifice herself, her life, and her future to save those she cares about, as well as the entire Zodiac. Rho simultaneously hates feeling belittled or doubted, and strongly dislikes when her Advisors and Guide doubted what she told them simply because she was young. Her strong intuition makes her a skilled star reader, but also means she's naturally tuned to the emotions and expressions of others.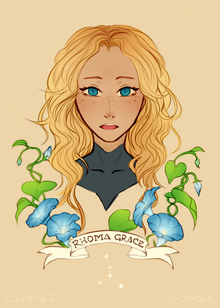 Rho and Hysan Dax have had a romantic relationship since book 1. At times, their relationship became rocky due to the events in the book but they always made up at the end.
In the first book, she and Hysan made out and it was implied they had sex.
In book 2, Hysan sneaks into her room and gives her kisses, spending the night together, and another character remarks: "I noticed a specific Gentlemen (Hysan) sneaking into a specific Gentlelady (Rhoma)'s Room."
Mathias was Rho's childhood crush, though she represses her feelings for him throughout the first book due to their differences, and the fact that Mathias continues to doubt Rho's intuition throughout their journey. However, when Mathias confesses his feelings for Rho and kisses her at the end of the first book, Rho admits to herself that she still loves him and wishes she could be with him. She also tells Hysan later that she does still have feelings for him. In the end of book 2 Hysan claims that he she would always choose a Cancrian (Mathias) over him. Despite Mathias's doubts about Ophiuchus in the first book, he valiantly guards and protects Rho throughout their journey. He also gifts her his mother-of-pearl Astralator, a family heirloom. Rho appreciates his help, but is still annoyed by his apprehension.
Community content is available under
CC-BY-SA
unless otherwise noted.